Piling, Inc. is a general contracting company specializing in the installation of Concrete Pile, Steel H-Pile, Sheet Pile, Pipe Pile, and Wood Pile. We can install a simple pile footing, or build a complete ship dock. Piling, Inc. has access to design engineering companies that can join forces and create a complete package.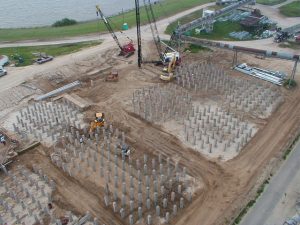 Pile driving sits at the cornerstone of all that we do. For the past 82 years, we have developed and delivered innovative piling solutions for public and private sectors throughout Texas City and the Gulf Coast region, providing the solid foundation needed for all kinds of structures. Our continued success is based on our team's ability to take on versatile and challenging projects with assurance, and our steadfast commitment to maintaining state-of-the-art technology and equipment. Backed by our extensive knowledge and expertise, we are capable of meeting all of your timber, steel and concrete piling needs.
Our piling projects range from the most basic foundation structures, to multi-million dollar commercial projects utilizing thousands of piles. We have vast experience driving all types of piles. We can manage any pile driving endeavor from inception to completion. Let Piling, Inc. be your pile driving contractor in Texas or Louisiana.
We specialize in the installation and extraction of:
Concrete Piles
Steel Pipe Piles
Steel H-Piles
Timber Piles
Steel Sheet Piles
Piling Inc. Has the capability of partnering with a various engineering groups for design / build.

Piling Inc. maintains its solid reputation as one of the leading heavy civil contractors in the Texas Gulf Coast region. Many of today's projects require a high degree of innovative thinking and technical expertise to keep up with the constantly-changing demands of the industry. Since 1931, we have successfully undertaken some of the most challenging heavy civil projects for clients in private and public sectors. Our highly skilled professionals embrace leading-edge construction technology and possess a diverse skill set that allows for successful completion of projects of all sizes on time and within budget, all while maintaining a commitment to safety, quality and efficiency. This insight, coupled with employees who have more than 40 years of construction experience, positions us to execute your project specifications, regardless of size and scope.

Through our vast history of successful ventures and qualified field expertise, Piling Inc. is the civil construction company located in Texas City capable of providing sound, cost-effective solutions for all of your heavy civil construction needs.

At Piling Inc., we provide custom industrial construction solutions for clients throughout Texas and Louisiana. With over 80 years in the business, we have built a strong name for ourselves, having completed some of the most complex construction and engineering projects in the Texas Gulf Coast. Our depth of expertise in construction of industrial projects and cutting-edge technology sets us above the rest. Because we understand the unique requirements and challenges required to undertake industrial projects, we possess the ability to meet the unique needs of your construction ventures, no matter the scope or complexity.

Serving the Gulf Coast region, our industrial capabilities range from plants and refineries, to chemical and petrochemical facilities. Our team of experts is experienced in managing and executing contract projects of all sizes on time and within budget. Whether you need a complete new facility or a time-sensitive upgrade to your existing infrastructure, trust Piling Inc. as your industrial construction contractor.

Industries we serve:

ALL INDUSTRIES THAT REQUIRE DRIVEN PILE FOUNDATIONS

Piling Inc. has been leading the marine construction industry for over 80 years. As a specialty marine piling contractor located in Texas City, we offer comprehensive solutions, ensuring every project is complete on schedule and within budget. Our success is based on our extensive hands-on experience in the installation and repair of various off-shore and on-shore disciplines such as bulkheads, seawalls, docks and other marine-related projects.
Our construction professionals understand the challenges that come with waterfront building and endeavor to supply the cost-effective solutions that meet and exceed our clients' expectations. Equipped with a full inventory of crane barges from 100 ton capacity to 230 ton capacity, Piling Inc. offers you the support you need to fulfill your marine construction requirements.

We specialize in various marine-related areas including, but not limited to:

Marine Pile Driving
Bulkhead Construction (steel, wood, vinyl)
Seawall Construction
Piers & Dock Construction
Boat Houses & Boat Lifts
Bridges

Piling, Inc. is at the forefront of the construction industry by continually investing in the most up-to-date machinery in the market. As one of the Gulf Coast's leading contractors, we take pride in using the latest equipment and installation techniques to keep up with industry demands. Our extensive line of deep foundation and pile-driving equipment allows us to undertake virtually any project of any size, in any market.

We maintain a fleet of floating and land-based equipment to suit the needs of your project. Our inventory ranges from barge-mounted & land based crawler cranes , to piling equipment such as diesel and hydraulic impact hammers, vibratory hammers excavators, dozers & loaders. With our line of cranes, barges, and pile driving rigs, Piling, Inc. is equipped to satisfy your marine, civil and industrial project requirements. We have our own heavy haul truck tractors & trailers so we are in control of mobilizations to any project when we need to be there.
See how your project can benefit from our quality pile driving expertise by calling us today at (409) 945-3459!